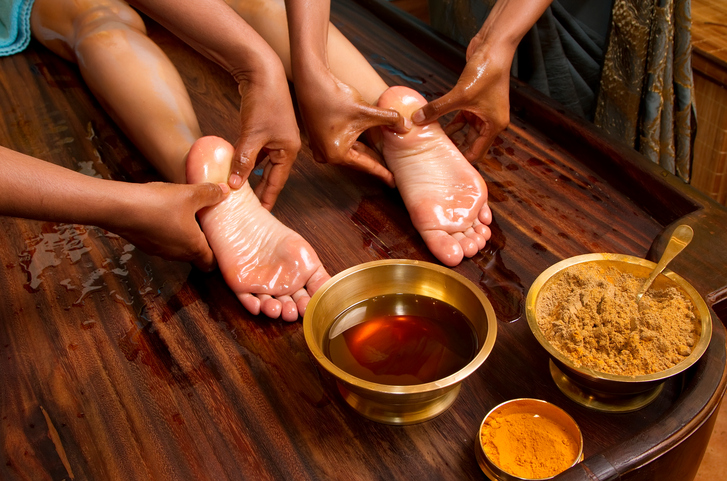 Pranav Ayurveda Panchakarma Clinic supplies Ayurvedic massage in Bhosari. Dr. Priti is the best doctor for Ayurvedic massage in Bhosari. Dr Priti Deshmukh believes that Ayurveda and traditional Indian medicine are an integral part of our culture and heritage. She also believes that it's important to reconnect with our roots.
When you are tired from your daily activities then visit our clinic for relaxation. We will give you a massage. Ayurvedic massage in Bhosari can help to relieve stress, improve blood circulation, increase energy levels, ease muscle pain and tension, detoxify the body and soothe the mind. It also helps to improve digestion by increasing the secretion of digestive enzymes.
Ayurveda is an ancient Indian healing system that promotes overall health by combining physical, mental, and spiritual practices. It's a holistic approach to health and wellness that can be practiced by anyone regardless of age or condition.
Ayurveda is one of the oldest and most well-preserved medicines in the world. It is a holistic medicine that goes beyond the physical body and into emotional, mental, and spiritual aspects of life. Ayurvedic massage in Bhosari has many benefits like reducing stress, relieving anxiety, improving immunity, building self-esteem and more.
What Does Ayurvedic Massage Mean?
Ayurvedic massage is a type of massage that aims to balance the body, mind and soul. It is said to reduce stress and anxiety while improving physical health. It is an ancient healing practice that originated in India and was passed down from generation to generation. It is believed that the Ayurvedic massage increases the body's ability to heal itself and can improve overall health.
Ayurvedic massage is a type of massage that uses oils and herbs to promote health and well-being. It is based on the principles of Ayurveda, a traditional Indian medical system.
It is one of the best ways to relax your mind and body. It helps relieve stress, anxiety, depression, and insomnia in one session. All you need to do is lie down on massage bed and let the therapist work his or her magic!
Benefits of Taking Ayurvedic Massage From Our Clinic
Ayurvedic massage has been around for thousands of years and is still popular today. It is a holistic form of healing that involves the use of pressure, friction, and vibration to help release tension in the body.
Ayurvedic massage helps improve blood circulation, balance hormones, reduce inflammation, and soothe pain.
Ayurvedic massage is a holistic treatment that uses pressure and motion to stimulate the flow of prana or vital energy in the body. It has been proven to be effective in treating a wide range of chronic conditions like arthritis, headaches, insomnia, and stress.